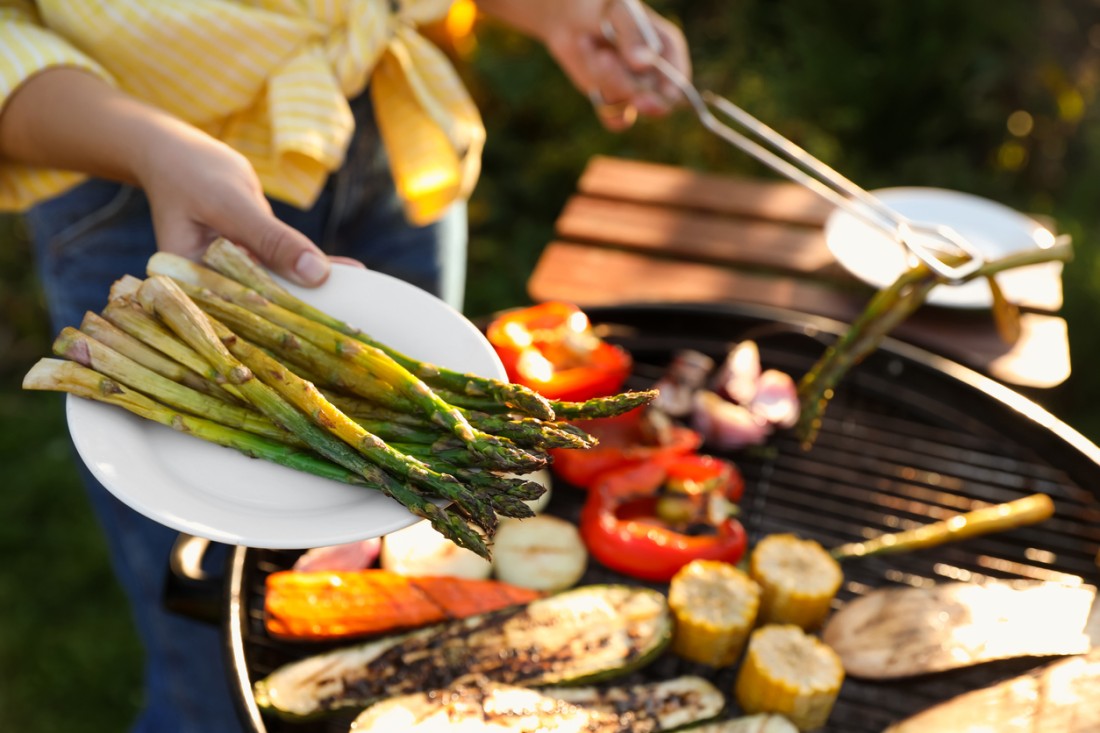 Barbeque parties are a staple of summertime, but for vegetarians, it can be challenging to find delicious options beyond just grilled veggies. However, with the right ingredients and techniques, vegetarian BBQ can be just as mouth-watering and satisfying as traditional meat dishes. In this article, Famous Dave's explores some of the best vegetarian BBQ options. Read on to learn how to make your BBQ vegetarian-friendly.

Tips for Grilling Vegetarian Food
Grilling vegetarian food requires a bit of extra care and attention, but the results are worth it. Here are some tips for grilling veggies to perfection:
Preheat your grill: Preheating your grill for at least 15 minutes before grilling your veggies ensures that they cook evenly and develop a beautiful char.
Oil your veggies: Brushing your veggies with oil before grilling prevents them from sticking to the grill and adds flavor.
Use skewers: Skewers are an excellent way to grill smaller veggies like cherry tomatoes, mushrooms, and peppers. They also make it easier to turn your veggies over without them falling through the grill grates.
Don't overcook your veggies: Overcooked veggies can be mushy and unappetizing. Keep an eye on your veggies while grilling, and remove them from the grill once they're tender and slightly charred.
Grilled Fruits
Grilling fruits might sound strange, but it's an excellent way to add some sweetness to your vegetarian BBQ. Grilled fruits are also a great dessert option and can be served with ice cream or whipped cream. Here are some fruits that are perfect for grilling:
Pineapple: Grilled pineapple is a popular option for BBQ parties. It's sweet and juicy and pairs well with savory dishes like grilled tofu or veggie burgers.
Peaches: Grilled peaches have a caramelized flavor that's hard to resist.
Watermelon: Grilled watermelon might seem unconventional, but it's delicious. The heat intensifies the watermelon's sweetness, making it a perfect addition to any BBQ party.
Grilled Vegetables
Grilled vegetables are a staple of vegetarian BBQ. They're healthy, easy to prepare, and taste great when seasoned with the right spices and herbs. Here are some veggies that are perfect for grilling:
Zucchini: Grilled zucchini is juicy and flavorful.
Eggplant: Grilled eggplant has a smoky flavor that's hard to resist.
Bell peppers: Grilled bell peppers are sweet and crunchy.
Grilled Potatoes
Grilled potatoes are a hearty and satisfying addition to any BBQ party. Here are some ways to prepare grilled potatoes:
Baked potatoes: Wrap potatoes in foil and place them on the grill for 30-40 minutes. Once they're tender, remove them from the grill and serve with butter and sour cream.
Potato wedges: Cut potatoes into wedges and season them with salt, pepper, and olive oil. Grill them until they're crispy and golden brown.
Potato salad: Grill potatoes, then chop them into bite-sized pieces and mix them with mayonnaise, mustard, and celery for a delicious potato salad.
Grilled Tofu
Tofu is a popular meat alternative for vegetarians, and it's perfect for grilling. Here are some tips for grilling tofu:
Press your tofu: Pressing tofu removes excess water and allows it to absorb more flavor. Wrap your tofu in a paper towel and place a heavy object on top for 15-30 minutes.
Marinate your tofu: Tofu is bland on its own, so marinating it in a flavorful sauce is essential. Soy sauce, ginger, and garlic are excellent options for a savory marinade.
Grill your tofu: Grill your tofu for 4-5 minutes per side, or until it's golden brown and slightly charred.
Grilled Meatless Meats
If you're craving the taste of meat but don't want to eat it, meatless meats are an excellent alternative. Here are some popular meatless meat options for grilling:
Veggie burgers: Veggie burgers are a classic vegetarian BBQ option. They're available in a variety of flavors and can be grilled just like traditional burgers.
Veggie sausages: Veggie sausages are another meatless meat option that's perfect for grilling. They're high in protein and can be served on a bun or sliced and added to veggie skewers.
Seitan: Seitan is a meat alternative made from wheat gluten. It has a chewy texture and can be seasoned with a variety of spices and herbs.
Conclusion & Final Thoughts
Vegetarian BBQ doesn't have to be boring or unsatisfying. With the right ingredients and techniques, you can create mouth-watering dishes that will impress even your most carnivorous guests. Grilled fruits, vegetables, potatoes, tofu, and meatless meats are all excellent options for vegetarian BBQs.
Delicious Vegetarian BBQ Options From Famous Dave's

If you're not in the mood to grill, or want to try some new vegetarian BBQ options, Famous Dave's has got you covered. Our vegetarian menu includes options like cheese curds, onion strings, sweet corn, mashed potatoes, and more Famous Dave's also offers catering services so that you can enjoy delicious vegetarian BBQ at your next party without any hassle.