Famous Dave's DMV is committed to supporting causes that contribute to the well-being of our community and environment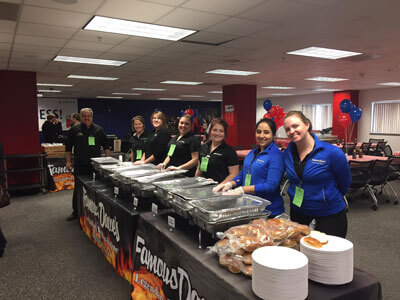 For any charitable donation requests, simply use the online form below. This form should be sent to us at least 6 weeks prior to the event.
Please note: As much as we would like to help everyone who asks, not all of the requests will be granted a donation. We currently receive a great deal of donation requests from all over the DMV area. While we consider ourselves a good corporate citizen and are willing to share our good fortune, we need to be selective.
---
Donation Request
Some of Our Sponsorships Include:
Special Olympics of Maryland
Vienna Little League
Oakton High School
James Madison High School
Northern Virginia Family Service
Flint High School
Reston Children's Center
The Arrow Foundation
Cystic Fibrosis Foundation
Chantilly High School
Rockingham County Sheriff's Office
Arcola Elementary School
Freedom high School
The Brain Foundation
Zion Safe House
Middletown High School
Tuscarora High School
Leukemia & Lymphoma Society
NAACP – Howard County Branch
Waterloo Elementary School
Mt. Hebron High School
The ARC of Howard County
Blind Industries and Services of Maryland
Worthington Elementary
The Women's Ministry Celebration
Dunloggin Middle School
Catholic Sportsmen's Organization
Waldorf Elk's Lodge
Huntingtown High School
Water for People