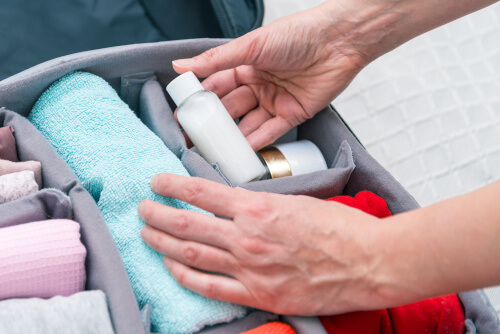 Sure, you can get the award-winning BBQ meat and sauces of Famous Dave's at one of our restaurants, but what about when you are on the road? Many people enjoy food as one of the top reasons for traveling. While on the road you can enjoy regional foods and beverages you just can't get anywhere else. What better souvenir than a sampling of the wonderful dish or drink you had on the road?
We care about BBQ, and we care about sauces and marinades, so we want to make sure you know what to do while traveling. Keep reading to learn about developments at Memphis Airport and general traveling tips with BBQ sauce.
Experience at Memphis Airport
The Memphis International Airport (MEM) made a move earlier this summer to stop people from bringing barbecue sauce bottles in their carry-on luggage. The Transportation Security Administration (TSA) requires liquids to be less than 3.4 ounces. Many sauce bottles violate this requirement.
The warning from Memphis based TSA came just before the popular annual World Championship Barbeque Cooking Contest - a big festival for all things BBQ.
The airport recommended that people place their sauce bottles in their checked baggage. TSA agents who turn people back at the security lines offer for people to return after checking a bag with the sauce in it. Unfortunately, most people don't leave enough time to go back through the check-bag line as well as the individual security line. Make sure to check your dry rubs as well as these may set off the alarms as well.
Can BBQ Sauce Go in Your Carry-On Luggage?
In general, yes, you can bring your sauce with you. However, it needs to be a small amount. All liquids and gels brought onto the plane in your carry-on luggage need to be stored in 3.4-ounce or 100 ml containers stored in a plastic bag. This practice is the standard approach for TSA guidelines.
Can you Bring BBQ Sauce In Your Checked Baggage?
This question is an easier one - yes, sauces can travel with you if it is in your checked baggage. You can travel with checked sauce even if you travel within the continental US. Feel free to bring along as much BBQ sauce as your heart desires. Beware of spills by making sure your sauce is either still sealed or wrapped in foil or plastic.

Keep in mind, the many great flavors of Famous Dave's BBQ sauces are available at all of our many locations. Find our closest location to you by clicking here.