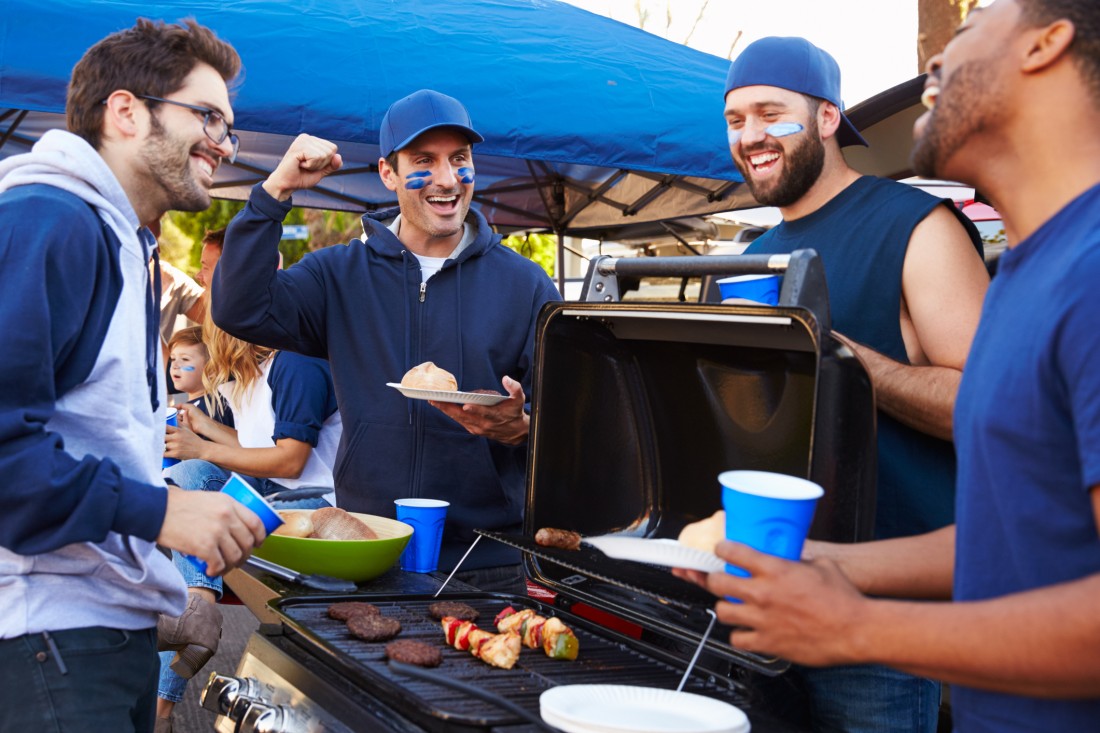 Football season is upon us, and that means it's time to gear up for the ultimate tailgate party. Tailgating has become an essential part of the football experience, where fans come together to celebrate their favorite teams, enjoy good food and drinks, and create unforgettable memories. Whether you're a seasoned tailgater or a newbie, this guide by Famous Dave's BBQ will provide you with all the tips and tricks you need to elevate your football tailgate experience to the next level.
Tailgating is not just about the game itself; it's about the camaraderie, the excitement, and the sense of community that comes with being a football fan. It's a time to gather with friends and family, decked out in your team's colors, and show your support. The atmosphere at a tailgate party is unlike any other, with grills sizzling, music playing, and laughter filling the air. It's a chance to escape from the stresses of everyday life and immerse yourself in the world of football.
Planning Your Tailgate Party
The key to a successful tailgate party is proper planning. Start by selecting a location that offers ample space for your group and is close to the stadium. Arrive early to secure a prime spot and set up your tailgate area. Make a checklist of everything you'll need, including chairs, tables, a grill, coolers, and decorations. Don't forget essentials like sunscreen, bug spray, and a first aid kit.
To ensure your guests have a great time, consider creating a theme for your tailgate party. This could be based on your team's colors, a specific decade, or even a famous football movie. Encourage everyone to dress up and get into the spirit of the theme. Decorate your tailgate area with banners, flags, and balloons to create a festive atmosphere.
Essential Tailgate Gear and Supplies
When it comes to tailgating, having the right gear and supplies is crucial. Invest in a portable grill that is easy to transport and can cook a variety of foods. Look for one with multiple burners, a sturdy construction, and ample cooking space. Remember to pack grilling tools, such as tongs, spatulas, and a meat thermometer.
Coolers are another essential item for a successful tailgate. Opt for ones with insulation and airtight lids to keep your food and drinks cold throughout the day. Consider bringing separate coolers for food and beverages to prevent cross-contamination. Fill them with ice packs or frozen water bottles to maximize cooling efficiency.
In addition to the basics, there are a few other items that can enhance your tailgate experience. Invest in a portable canopy or tent to provide shade and protect against inclement weather. Bring folding tables and chairs for comfortable seating and dining. Don't forget to pack trash bags, paper towels, and cleaning supplies for easy cleanup.
Tailgate Food Ideas and Recipes
One of the highlights of any tailgate party is the food. From classic burgers and hot dogs to creative appetizers and desserts, the possibilities are endless. Here are a few tailgate food ideas and recipes to get you started:
Loaded Nachos

: Layer tortilla chips with melted cheese, seasoned ground beef, diced tomatoes, jalapenos, and sour cream. Serve with salsa and guacamole on the side.

Buffalo Chicken Sliders

: Shred cooked chicken and toss it in buffalo sauce. Place it on slider buns and top with blue cheese dressing and sliced celery.

BBQ Pulled Pork

: Slow-cook a pork shoulder in your favorite BBQ sauce until tender. Shred the meat and serve on buns with coleslaw.

Caprese Skewers

: Thread cherry tomatoes, mozzarella balls, and fresh basil leaves onto skewers. Drizzle with balsamic glaze for a burst of flavor.

Mini Sausage Rolls

: Roll cocktail sausages in puff pastry and bake until golden brown. Serve with mustard or ketchup for dipping.

Football Rice Krispie Treats

: Mold Rice Krispie treats into football shapes and decorate them with icing to resemble footballs.
Remember to consider any dietary restrictions or preferences of your guests when planning your menu. Offer a variety of options, including vegetarian and gluten-free choices. Don't forget to bring condiments, napkins, and utensils to complete the dining experience.
Tailgate Games and Activities
In addition to great food and drinks, providing entertainment and games will keep your guests engaged and create a lively atmosphere. Here are some tailgate game ideas to consider:
Cornhole

: Set up a cornhole board and organize a friendly tournament. Provide prizes for the winners to add a competitive element.

Football Toss

: Create a target using hula hoops or buckets and invite guests to test their throwing skills. Offer small football-themed prizes for successful throws.

Giant Jenga

: Bring a giant Jenga set and challenge your guests to a game of skill and balance. Watch as the tower gets taller and more precarious with each turn.

Beer Pong

: Set up a beer pong table and let the games begin. Use plastic cups and non-alcoholic beverages for a family-friendly version.

Team Trivia

: Create a football-themed trivia game and test your guests' knowledge of the sport. Offer small prizes for correct answers.
Remember to provide seating and shade near the game area, allowing guests to relax and cheer on the players. Encourage friendly competition and create a positive and inclusive environment for all participants.
Party Catering Options for a Hassle-free Tailgate Experience
While some people enjoy preparing and cooking their own food at a tailgate party, others prefer a hassle-free experience. If you want to skip the grill and leave the cooking to the professionals, party catering is the way to go. Famous Dave's offers delicious BBQ catering options that will satisfy even the most discerning taste buds.
With Famous Dave's catering, you can enjoy mouthwatering BBQ ribs, pulled pork, chicken, and brisket without the hassle of cooking and cleaning up. Their catering packages include everything you need, from the main dishes to the sides and desserts. You can choose from a variety of options to suit your guests' preferences and dietary restrictions.
Skip the Grill and Cater Delicious BBQ From Famous Dave's
Not only does party catering save you time and effort, but it also ensures that you have a wide selection of tasty dishes to offer your guests. Famous Dave's BBQ is known for its authentic flavors, slow-cooked meats, and homemade sauces. By opting for catering, you can focus on enjoying the tailgate party and spending time with your guests rather than being stuck behind a grill. To get delicious catering for your upcoming tailgate party, call your local Famous Dave's or order online today!