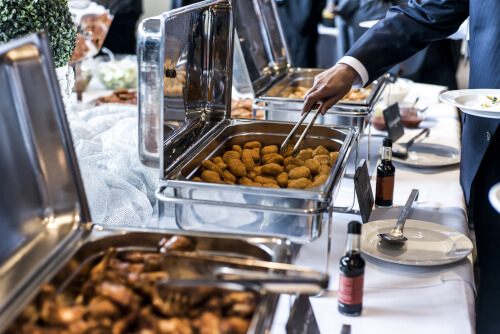 The office is the home for business to get done. People dress, behave, and communicate more professionally, so more work gets done. But, there is a chance for people to relax, that leads to better work getting done. Keep reading to learn how corporate catering for your business can help your team feel more fulfilled while getting more done.
The Standard Work Lunch
People choose to take lunch in all sorts of ways. Many take the time to be on their own away from the office, whether that means a quiet meal, a walk, or a quick car nap, they use the time to recharge alone. Others choose to take their lunch at their desk to save money or because they feel the crush of their workload, urging them to keep getting things done. Some employees go out with a small group or a work friend, but this doesn't seem to happen that often.
People know what is best for them and what they need to work and live most authentically and efficiently. But we see an opportunity in the last group.
Give People a Reason to Relax and Chat
Work is a place to be professional, as it should be. People tend to act more responsibly and considerately. But the best teams collaborate better when they see each other as people instead of as necessary wheels in the machine. A team that trusts each other can solve problems more efficiently and report better work satisfaction in most cases.
Team builders can help, but sharing a meal is a basic way for people to relax and get to know each other better. Hosting a company-wide lunch takes away your employees budget concerns. Having the meal at work cuts down on commute time so you won't have to miss extra time from work.
More importantly, the meal will encourage employees to comfortably chat with each other and maybe get to know co-workers they don't usually speak or work with.
What Famous Dave's DMV Can Do for Your Event
So you are probably wondering what your options are. Famous Dave's DMV provides catering options that include pick-up, delivery, and full-service offerings. Choose from classic BBQ meals, hickory-smoked ribs, or our diet restriction options to give your workers the break they need. Our staff has the experience to provide you with the slow-cooked food and smiling service that will complete your lunch experience.
Famous Dave's DMV offers its guests award-winning BBQ food in our restaurants or catered to their event. Learn more about our corporate catering by clicking here or give us a call today at (855) 783-8648 to begin planning your next event.