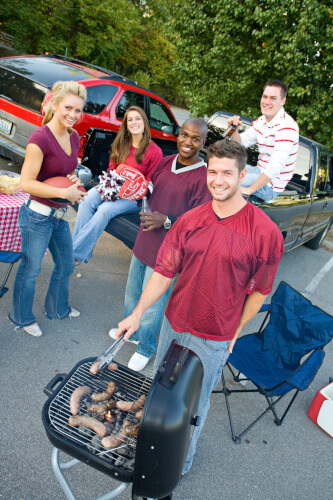 Football season already kicked off for both college teams and the NFL. Hopefully, you already have your fantasy football league picked out and have been keeping up with how your teams have been doing. For college, whether you went to school there, a family member is there, or you just know how to pick the winning team, make sure to celebrate in style.
Nothing goes better with football than a tailgating party with good friends, good food, and good times. Get your tailgate BBQ started right with our tips below.
Tips to Win Your Tailgate (No Matter How Your Team Does):
Follow the Rules - Each stadium, school, and parking area may have their own unique rules. Check for posted rules, online and on the day of the event. Even if you've been there before, best to not get in trouble for silly things.
Start Early - Have all your fun on the big day. Get the packing done the night before. The earlier you can arrive, the better. You can get a good spot. Make sure to coordinate with other cars in your group so you can all arrive at the same time and block off enough room with each other.
Bring the Good Munchies - Just like with the packing, do the cooking ahead of time so you can enjoy yourself on game day. Handheld food is the best, burgers, chicken legs, ribs, and more. If you will be in the area, Famous Dave's can take care of your cooking needs.
Play Games During the Game - Bring as many activities as you can to keep the party fun. Cards, cornhole, and horseshoes are winners. Bring along a football and a frisbee for your more active friends.
Don't Miss the Game - Make sure to bring a big enough TV and a way to give it power. Try a quiet generator for your energy needs.
When your team is on the road, bring the party to your home for all your friends. Take out the cooking when you choose tailgate catering with the BBQ masters at Famous Dave's DMV. Our award-winning sauces and rubs complete our tasty BBQ experience. Don't forget the sides such as beans, veggies, coleslaw, mac & cheese, and so much more. We can even take care of the plates, napkins, and plasticware.
Give the Famous Dave's DMV team a call today at to start organizing your BBQ catered tailgate.